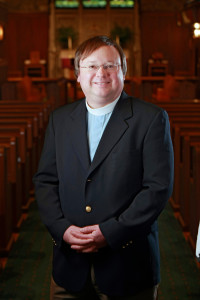 Rector: The Reverend Dr. Kent R. Walley
Kent became the sixth rector of St. Luke's in January of 2008, coming from St. Luke's Episcopal Church, Hilton Head Island, South Carolina where he had served eight years as Associate Rector. Kent graduated with a Master of Divinity from Trinity School for Ministry, Ambridge, PA, and is near completion of a Doctor of Ministry degree from Fuller Theological Seminary in Pasadena, California. His undergraduate alma mater is the University of Michigan. He previously worked in Michigan and Pennsylvania on campus staff for Inter Varsity Christian Fellowship, an interdenominational collegiate ministry, and as a small business computer consultant.
Kent married his wife Joy in 1987 and they have two sons, Philip, a mechanical engineering student at Purdue University, and Stephen, a student at Bernard's High School. Joy works per diem as a Speech Language Pathologist.
Kent enjoys golf, tennis, jazz piano, watching University of Michigan sports (Go Blue!) and having grown up in Pittsburgh is a diehard Pittsburgh Steelers fan.
Email: rectorstlukesgladstone@gmail.com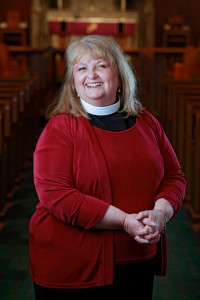 Deacon: The Reverend Anne Lemay
Anne was ordained as a permanent deacon in the Episcopal Church in October, 2000. Since that time, her ministry has included serving at soup kitchens, visiting seafarers aboard ships at Port Newark, teaching confirmation classes, and leading monthly worship services at Matheny Medical and Educational Center in Peapack.
Deacons are servant ministers, volunteering to serve as outreach ministers in the church, so Anne continues her full time work as the Head of Youth Services at the Franklin Township Public Library in Somerset, where she supervises a staff of 14 in meeting the informational needs of children and families from all parts of the world as well as providing educational programs and events.She has served as a professional storyteller and for several years taught a class in storytelling to graduate students at the Rutgers School of Communication and Information.
In her free time, Anne is an amateur artist who takes mixed media art classes whenever she can! Professionally, she is the author of a book, Dog Days & Winter Ways: Skits to Promote Reading All Year Long (Highsmith Press, 1994), and has written several chapters for the yearly manual promoting summer reading activities for the Collaborative Summer Library Program, the national organization that plans summer reading programs in libraries.
Anne and her husband, Ken Erb (who is in the St. Luke's choir) live in Woodbridge, NJ.
Curate: The Reverend Allen Wakabayashi