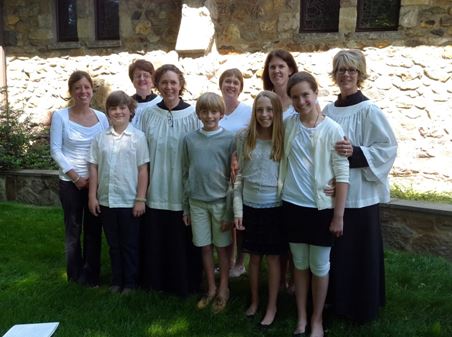 The St. Luke's Ringers are an active bunch and ring about once a month in Anne's Chapel during the 9:30 Service. We work hard, but also have a lot fun. Our practices are in the Bell Tower after church and alternate on Tuesday nights at 7:15.
The Bell Choir is in its fourth year of ringing. Though we strive for musical excellence, we enjoy the process along the way. We ring a three octave set of Schulmerich bells. In the last three years, we raised money for new music racks, mallets, and new gloves. We are applying for a loaner set of three octave chimes by Malmark to try out in 2016.
Our Bell Choir Director is Katherine Newcomer-Scarano. She is in her ninth year of directing bells and always on the lookout for more ringers. If you can read music, she will teach you how to ring bells!
Katherine can be reached at 908-625-0043 (mobile) by call or text. Her landline is 908-439-2067. Email: katherinenewcomer@comcast.net
For more information on her musical background, please check out www.pottersvillepiano.com where the St. Luke's Bell Choir is mentioned!